Warehousing and Logistics
Cleaning and Hygiene Supplies for Warehousing and Logistics
High-traffic industrial washrooms and sites can suffer from:
Washroom drain blockages, misuse and heavy-use.
Inefficient, costly site hand hygiene.
Excessive, unregulated use of cleaning chemicals.​
Rocketing cleaning budgets.
​Disproportionate amount of plastic waste.
As well as being the go-to for janitorial consumables for the warehousing and logistics sector Knighton Janitorial also have a unique range of Cost-in-Use Washroom, Hand Hygiene and Chemical Dosing products that are proven to help solve these problems and achieve:

​Cost-in-Use with Knighton
​Established in 2003, Knighton Janitorial are pioneering new hygiene solutions based on 'Hygiene. Measured', our brand promise to focus on controlled and measured product consumption, maximising usage and minimising waste for all our customers.
In warehousing, location counts, that's why Knighton Janitorial is located on the edge of the UK's 'Golden Triangle' of logistics - ensuring outstanding lead-times and service for all our warehousing and logistics clients.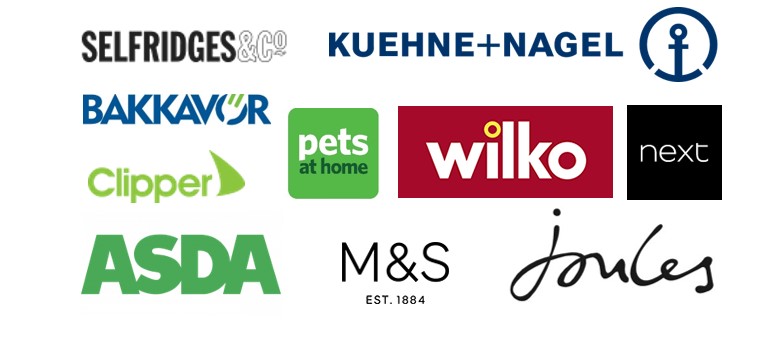 Some of our Customers
Some of our customers we have partnered with to achieve reduced cost, product and plastic waste with Cost-in-Use Washroom, Hand Hygiene and Chemical dispensing and dosing systems.
---
Testimonials
"Carry on doing exactly what you are doing and being who you are, most of all, thank you. "
"Excellent service throughout, the teams love the products we purchase."
"I would just like to say that Steve Lloyd has been fantastic this year, helping us with supplies to make our offices Covid secure. As products were difficult to get hold of he would recommend alternatives and often let us know he had an order of products coming in so we could place orders of specific items."
"I wanted to pass my thanks on to Kyle your delivery driver.He was so helpful with our delivery today and like a ray of sunshine!"
" Always a pleasure doing business with you. I must say, you're one of the very few companies who are always happy to help and value your customers by going that extra mile…. You don't see it much these days. So thank you!"
"Excellent customer service, always happy to help with product information . Deliver items requested promptly. Good value for money."
"Local company who listen to what we want and go above and beyond to source what we are looking for."
"Lovely staff that go above and beyond to create a good customer relationship from the sales team to the delivery staff."
"All knighton staff are friendly, helpful, understanding and provide a great 'hassle free' service which makes my job easier."
"As you can imagine the school deals with numerous vendors and suppliers. Knighton are without doubt the most professional and efficient by far, not to mention friendly.  Thanks to the whole team for the service you provide. "
"Easy to use website, quick response from pleasant staff."
"Always helpful and extremely quick to respond to our needs.  Its nice that regular contact is made with us to continue to understand our needs"
Over 80%
said they would 'definitely recommend us to a colleague'
Over 96%
rated our After Sales Service as 'Good to Excellent'
Over 98%
rated our ability to understand their needs as 'Good to Excellent'
Case Studies
k-San Hand Hygiene System Saves 50% Costs

A leading national facilities management company had 700 k-San Hand Sanitiser Dispensers fitted across 11 customer sites - improving hygiene AND achieving a 50% reduction against budgeted costs.

Plastic Waste Reduced by 98% for Major Fashion Brand

Plastic waste from single use trigger spray bottles reduced by 98%
Fill out our enquiry form