k-San Hand Hygiene System Saves 50% Costs
k-San Hand Hygiene System Saves 50% Costs
Background
A leading national facilities management company was looking for a supplier to regularly service and refill their bulk fill hand hygiene dispensers across 11 client sites. All the sites had between 300 - 1500 individuals on site. The contract was costed at weekly, fortnightly and monthly visits.
Problem
This method of keeping the dispensers refilled and serviced did have some drawbacks.
Scheduled visits would mean many dispensers were being topped up as opposed to refilled from empty, wasting time and costs.
Regular disruption from third party service visits - which would also have been during COVID lockdown.
A contract would be required, tieing all parties into an agreed period.
Most notable problems, however, were with the bulk fill dispensers themselves.
Poor hygiene - because the pump is built in to the dispenser it's impossible to clean thoroughly, making cross contamination unavoidable.
Product waste - the dosage isn't controlled meaning the user can use as much as they want; which is often too much.
Mess - refilling often causes spillages, waste and time spent cleaning.
Plastic waste- refilling from 5L containers creates an unnecessary amount of plastic waste.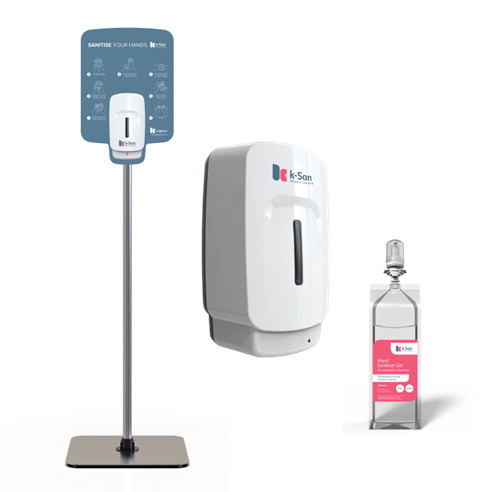 Solution
Knighton quoted for the requested refilling and service visits, but they also offered another solution; removing all the bulk refill dispensers and replacing them with the k-San cartridge refill dispensing system. What initially sounded as an unnecessary amount of upheaval and upfront cost had multiple indisputable benefits:
No product waste - the cartridges would only be replaced when they were completely empty.
No contract - they could manage the replacement of the cartridges themselves.
No disruption - from regular third party visits to site.
The facilities management company took Knighton up on the proposal and purchased 700 k-San Hand Sanitiser Dispensers for their 11 client sites. By upgrading from bulk fill to cartridge refill dispensers, the customer achieved further multiple indisputable benefits:
Facilities management intervention on the sites was reduced by 80%.
50% reduction in budgeted costs for the bulk fill servicing schedule.
2.5 times more product dispensed than with the bulk fill dispensers.
The cartridge dispensers have been placed at outdoor locations, unsuitable for bulk fill dispensers.
Nine months in with the new system and no reported problems - despite heavy daily use